The day before the race I was getting things ready and realized I needed more gels.  So last minute stop at Sports Authority and I saw a shirt, I had to have for the big day!  For those of you that know me, I always end up getting something new for race day, last minute the night before, whether it's socks, a running skirt, or a shirt…something.  Like the first day of school!  Erik was off looking at camping gear so I took this picture in the dressing room and sent it to him with the caption,  "I need this!"  I've always wanted to wear a Wonder Woman shirt to my races…now I have one.  From now on this is part of my running attire on race day!
This was the first marathon that I arrived solo without my family with me.  Usually we pack the kids in the car and Erik drives (so I don't stress over parking and traffic), they take pictures, meet me at various mile markers for support, and at the finish line.  This time because of the scheduling of Isaac's solo performance we opted for me to go alone as to not stress Isaac out on his big day.  Needless to say it worked out but I missed them.
As I took the toll road out to Irving at 0'dark thirty I saw a car with 26.2 and 13.1 stickers on it's bumper and I knew we were headed to the same event.  So even though I had my GPS I followed that car.  I came up to blocked streets as I neared the convention center parking so in order to get to the parking garage I had to go around the block a few times. Luckily I work in Irving and am familiar with the area, not to mention  I had my "guide car" that I was following.  My instincts are good I must say, because the other drivers led me right to where I wanted to be.  🙂
I waited for Liz, my running partner and her fiance Jon to arrive.  While I waited I enjoyed the Expo, at which I was handed a chap stick from the Sports Clip booth, it will come in handy later, and there was a drum line!
Liz arrived and we were just hangin out waiting to get into our corrals.  The runners warming up were funny.  Some were stretching in these funny positions, others were running side ways, some were doing high knees…it was a sight.  I was jumping up and down to stay warm and because I was excited.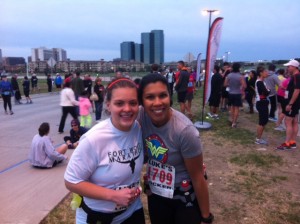 We got into our corral, set up our Garmins, and proceeded to the start line.  Beep! Beep! Beep!  Is all you could hear as people stepped over the start line so they cold could start their tracking.  I actually started mine on time!  Woo hoo!  It was very accurate I might say.
Liz and I were pacing well and actually kind of fast for a start but we felt good so we kept going.  Usually we run the first 4 miles before stopping for a drink, but the aid station was actually at mile 5.  We proceeded an extra mile, feeling good and chatting away.  I warmed up quickly and the temperature plus over cast kept it nice throughout the entire race.
We went on to mile 6 and stopped for a drink, mile 7 and so on…at about mile 8 Liz's achilles started hurting.  We saw Jon and he offered us some fuel, but we were ok.  We continued on and Liz began to slow down and she was in pain.  Then she pointed out a girl from a distance, who had on short black shorts, and a pink tank top,  "What's that on her legs?"  I said, "O' My' Good'ness, it's poop!"  Liz said, "No maybe she fell in a mud puddle."  This was a road race in a scenic beautiful city park in Irving, Texas.  It was a paved trail that was wide and it hadn't rained yet.  THERE WAS NO MUD!  Then I said, "Maybe it's K-tape", however I've never seen K-tape in any color but neon pink, blue, or green.  As we got closer, we smelled it….sure enough, runner's trots.  I'd only read about it, and never actually seen someone that had a case of it.  We were at mile 8 so she had 18 more miles like that!  I would have "phoned a friend" to take me home.  We were utterly grossed out and felt sorry for the girl.  Any other time Liz and I would have been laughing and joking the entire way about it, but she was hurt and I could see it in her face and hear it in her voice she was not feeling good at all.  She pushed through as much as she could but eventually fell back behind me.  She waved me on,  I felt bad but I had to continue, I had to make it to Isaac's performance on time.  I saw a man running that looked old enough to be my dad and he was keeping a nice pace.  I ran by him and we said our "hellos."   I asked him, "How many marathons is this for you?"  He said, "39th!" I was impressed and said, "Wow this is my 3rd I have a ways to go!"  We ran side by side and I ran without stopping to about mile 11 and that's when I realized 1.  I had to pee really bad and 2. my foot was starting to ache.  I should have taken it easier in the beginning and perhaps even taken more walk breaks but I let my anxiety to finish fast push me.  I found a porta potty at that aid station and I stopped and used it.  It took less than 30 seconds so now I know if I have to take a potty break during a marathon I will.  I'd rather hydrate than pass out for fear of having to stop.
I continued on til the turn around at about mile 14 stopped to drink water and continued.  At about mile 16 my foot was aching badly and I decided to walk a little.  Then the" 39 marathons" guy passed by me so I started running again and told him I was trying to keep up with him.  He said, "ok" and kept me company.  We talked about our running experiences and his running stories were neat to hear.  He told me about the first time he ran the Cow Town marathon (my first marathon in 2013) in 2010 (I had just started participating in running events at that time and ran the Cow Town 10k that year) and he said at mile 18 he hurt his knee so badly he didn't finish.  He told me he was disappointed but had learned from that experience.  I told him my last marathon was in November and asked him about advice for getting faster.  The cool thing he said was that I was already trained and fit for long distance running so I just needed to do speed work.  He advised me on how to do it and I realized hearing it from an experienced marathoner versus reading it in a book or training manual is much better!
At about mile 20 I was burning on the underside of my arms.  I forgot to put my chafing cream on this morning and it was really uncomfortable.  The 39 marathon guy had taken his shirt off because his chafing cream had rubbed off and his shirt was rubbing his nipples…lol.  Then I remembered a tip I read in Runner's World about carrying chapstick to rub on the places that chafe during a race.  I took out the chapstick that was handed to me at the expo and rubbed it on the underside of my arms.  I let my new friend borrow some too (I threw it away when I got home btw) and he was actually bleeding!  It was chilly so he put his shirt back on.  This was something I'd also only read about and never actually seen.
We ran together til about mile 23 when he had to take an additional break since he was feeling some muscle tightness.  I continued on and was psyched because I just had a 5K left!  I sped up a little and at mile 24  noticed a guy who was walking  and running funny.  He was pretty fast considering we'd already run that long, so I kept up with him.
We got to mile 25 and we were silently running by each other as he was in his world and I was in mine.  As soon as my watch beeped mile 26 I shouted, "Just .2 more to go!"  He said, "Let's finish this!"  And we ran to the finish.  We got our medals and our water bottles, he tapped me on the shoulder and said, "Good job!"  I told him thank you and congratulated him with a hi five.  Then I received a text from Erik who was tracking my race.
At this point I knew I would make it to Isaac's performance so I was happy.  I brought my clothes and toiletries just in case I'd have to go straight from Irving to Mansfield (about 40minute drive) but I went home instead.  The drive home was kind of uncomfortable so I put the car in cruise control down the toll road and stretched my legs.  I limped into the house cleaned up and changed then headed out to hear Isaac play.  It was surreal as I was at the school wearing my Irving marathon shirt that just 2 hours before I was throwing down 26.2 miles.  I didn't PR but I got to meet some cool people in the process, learn new techniques, and felt really accomplished.